Rite Aid - KidCents
Choose the Shepherds Home as your charity. Every time you shop at Rite Aid your purchases will be rounded up to the nearest dollar.
Idaho Gives
Idaho Gives – a program of the Idaho Nonprofit Center – is designed to bring the state together, raising money and awareness for Idaho nonprofits. Donations can be collected from May 1 – May 4, 2023.
Avenues of Hope
Donor match from December 9th – 31st. – up to $3,000!
Mail in a check:
If you would like to mail in a check our address is:
Shepherd's Home Inc.
PO Box 2011
​McCall ID, 83638
Monthly Pledge Campaign
Monthly Pledge campaign
$25.00 sponsors a child for a night
$175 sponsors a child for a week
100 monthly pledges of $50.00
would help nuture children by providing a
safe and loving family home.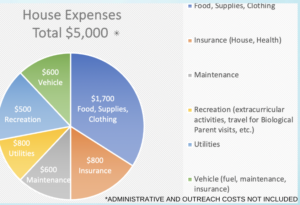 Every monthly pledge amount is appreciated!
Feel free to reach out to us with any questions
(208) 634-1152
How Are Monetary Donations Utilized?
Annual Operation Costs for the Shepherd's Home: $120,000
Approximately $108/day/child
Includes food, utilities, clothing, transportation, staff salaries, and home maintenance.
This also pays for the invaluable services associated with breaking the cycle of abuse that many of our residents are caught in.
Counseling for children and parents
Parenting classes and resource materials available to all community members
Opportunities to become involved in the community through wilderness activities, school sports, youth group activities, etc.
National Average is $109.59/day/child for publicly funded foster care that does not typically cover care associated with prevention.
The cost to meet the needs of the Shepherd's Home children is substantial, but it is minimal compared to the results of inaction. Ultimately, $108 per day is a small price to pay for hope, healing, community health, compassion and a whole life-time of possibilities for a child. There aren't enough opportunities to thank you for your continued support of the Shepherd's Home.
Tax Credit Information
We deeply appreciate and need your support throughout the year. The Shepherd's Home is a private, 501(c)3 nonprofit organization. Donations are tax deductible. We are happy to provide you with a receipt for your donation.
Donations to 501(c)3 nonprofit organizations can offer considerable financial incentives for giving. In addition to your tax deduction, as a donor to the Shepherd's Home or the Shepherd's Home Foundation, you may now also receive an additional tax credit on your Idaho State income tax return. Supporting the Shepherd's Home and our Foundation makes sense, financially and compassionately. We work to heal the effects of child abuse, prevent future abuse and provide support for area families in crisis. Now you can help us break the cycle of child abuse while gaining a tax advantage under Idaho Code 63-3029(c).
Please consult your tax or legal adviser for more information.